Bridge to Terabithia
• TOP NOTCH (my top choices)
• HONORABLE MENTION (well worth watching)
• YOU MIGHT WANT TO CONSIDER (I like them but you might not)
• CLASSICS (Great movies up through the 1960s - many don't have any rating)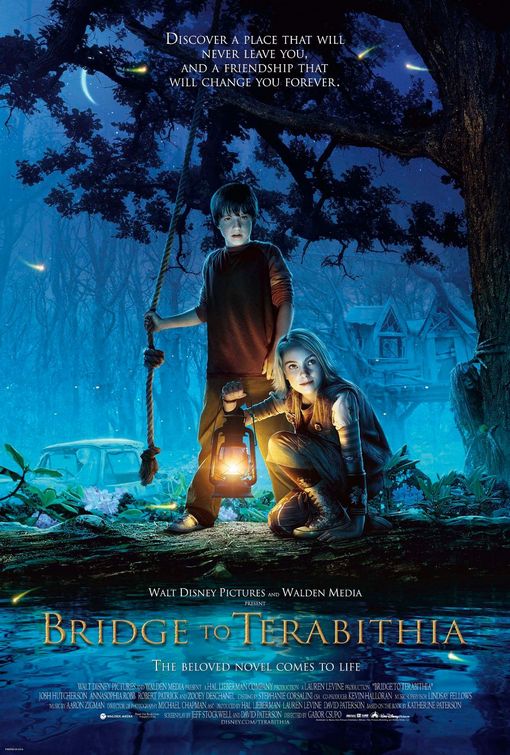 THE BRIDGE TO TERABITHIA
(2009) - PG -
TOP NOTCH
Josh Hutcherson, AnnaSophia Robb, Zooey Deschanel
Summary -
Tethered to problems in his family and at school, Jess Aarons (Josh Hutcherson) suddenly finds a friend, Leslie Burke (in a standout performance by AnnaSophia Robb), who cuts the tethers. Together, the friends are free to transcend their lives in a small, rural town and explore the reaches of their imagination. But something goes horribly wrong, and Jess must face the demons in his real life before he can realize his talents and self-worth embodied in his fantasy world.
Cautions
-Some thematic elements including bullying, some peril and mild language
Commentary
- This film suffers from a poor advertising campaign. In most posters, covers or trailer images it is promoted in such a way that it creates the illusion that this is a trip to Narnia or some such equivalent. It absolutely is not! Any scenes with CGI are actually some of the least interesting parts of this movie. True, there is a fantasy component but the themes of this film are rich and authentic - facing tragedy, embracing your uniqueness and the ways we can be changed as we reach out to one another.
Don't pay attention to the advertising (that's why I picked the only poster for this blog which was not misleading).
The next step is to get your kids (maybe just those eight and up) or your friends, get boxes of tissues and prepare to have a great discussion about life afterward.
In an era when kids' films focus on hip hop, nontraditional families, city life and teenage crushes dripping with sexual energy, Disney has given us a wholesome exploration of a boy's world. His family, friends, even the furthest reaches of his dreams--all are shown with great care and depth. Like its movies of yesteryear that taught us life lessons,
Old Yeller
for example,
Bridge to Terabithia
shows what makes the people and stories of middle America so special.